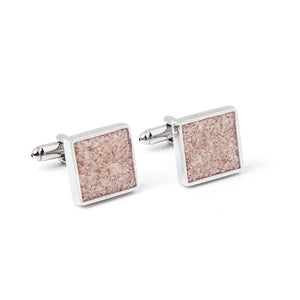 Square Cufflinks
Stuck at work all week? No worries! Capture and remember your favorite travels and adventures with our handmade silver plate square cufflinks. These cufflinks are sizeable enough to show off your favorite sand and light enough for everyday wear. Hand-crafted with sand then layered to a flat, glass-like finish.
Silver plated
Bullet back closure
17mm square setting
Handmade with Love & Sandy Hands in the USA®
Main photo shown is handmade with beach sand from Seven Mile Beach, Grand Cayman
***NOTE*** In stock Square Cufflinks are made using sand from the Peace River in Arcadia Florida. Color may differ from pictures shown.  Can we special ordered in any beach sand in the sand bank. Or send in your own sample for an exclusive piece.